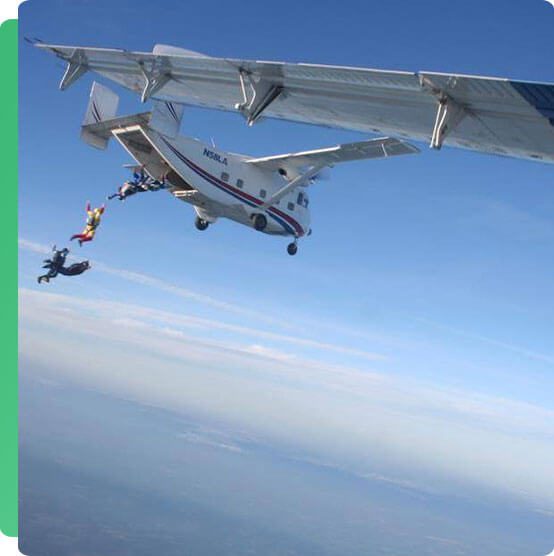 REQUIREMENTS FOR FUN JUMPERS
Current USPA membership
Reserve in-date
Logbook showing currency for license held
Hook Turns are to be done out in the open field only.
Absolutely no drugs
No alcohol before the last load is on the ground
WE OFFER A LARGE, OPEN DZ WITH REASONABLE RATES, FREE TV/WIRELESS INTERNET, FREE CAMPING, AND HOT SHOWERS.
$20.00 to 6000 ft
$24.00 to 9000 ft
$27.00 to 10,500 ft
ALTITUDE OVERVIEW
see the dropzone and landing area
RIG RENTALS:
$22.00 per jump
GEAR FOR SALE
New and used gear for sale
AIRCRAFT:
Two Cessna 182's and visiting turbines
TYPICAL LANDING PATTERN:
Left-hand pattern (depending on prevailing wind conditions, which is predominantly from the West)
SWOOP POND:
1/2 acre swoop pond, 7 ft depth towards middle, many outs
WIND INDICATORS:
Three visible windsocks (fueling area .. hangar .. intersection of runways)
FACILITIES:
Heated and Air-Conditioned indoor packing. Vending snacks, beverages, and all-day free coffee. Concession trailer on select weekends. Many Restaurants and Hotels are within 5 miles.